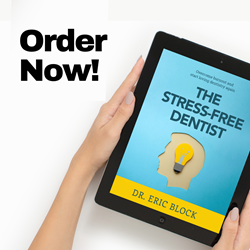 "Mental health and wellness are two important topics in dentistry that few have attempted to address. With mental health issues among dentists on the rise and wellness on the decline, Dr. Eric Block's new book attempts to reverse this course. I would highly recommend you pick up a copy and learn fro
Dr. Eric Block, a practicing dentist from Acton, Massachusetts just launched his first book, The Stress-Free Dentist, and it's already changing the lives of doctors across the country. After years of struggling with anxiety, regret, stress, and burnout, Dr. Block came to a pivotal realization—he wasn't alone. Once he began talking to his colleagues (and a licensed therapist), the weight began to lift, and the solutions became clear and attainable. Dr. Block wants all the stressed-out dentists out there to know they are not alone—they too can overcome burnout and start loving dentistry again.
We keep going through the motions, showing up at a job that may increasingly feel like it's asking everything of us while giving little back. And because of the nature of our training and our profession, many of us don't have the tools we need to prevent or treat burnout. That's the bad news. But here's the good news: There's hope. Recovery from burnout is possible.
"Dr. Eric Block has provided the ultimate guide for the dentist operating in a highly stressful world to embrace the thought process to become a stress-free dentist. This book should be required reading for all graduating dental students and residents." -Dr. Jason Portnof DMD, MD, FACS, FICD, FACD
Dr. Eric Block is a full-time practicing dentist in Acton, MA. Dr. Block loves helping dentists find new customer offers on his website DealsforDentists.com and interviewing dental professionals from across the industry on his podcast The Deals for Dentists Podcast. He is also hosting the first Get Stress-Free Dentistry Summit at the Diplomat Hotel in Hollywood Beach, Florida on October 12-17th, 2021.
For media and interview inquiries, contact Dr. Eric Block at (617) 216-7937 or via email at info@thestressfreedentist.com. To order the book The Stress-Free Dentist, visit thestressfreedentist.com/Shop.
Share article on social media or email: